---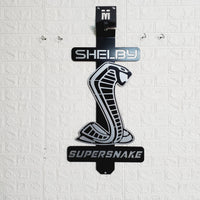 Custom Shelby Super Snake Hood Prop - Handcrafted, Choice of Size & Color, Iconic Snake Logo Centerpiece
Showcase your Shelby Super Snake in style at every car show with a custom-made hood prop, intricately designed to accentuate the powerful aesthetics of your prized possession. Available in three sizes - 24, 30, and 36 inches - each piece is crafted to fit seamlessly, enhancing the visual appeal of your Super Snake's engine bay.
I handcraft each hood prop from heavy gauge steel, precision-cut on an ultra-precise plasma table, ensuring a masterpiece that is as unique as your Shelby. The centerpiece of this exclusive accessory is the iconic Shelby Snake logo, a symbol of performance, quality, and power, making each prop an emblem of pride for Shelby enthusiasts.
Your customization options extend to a choice of colors, allowing you to match the prop with your Super Snake's iconic shade or opt for a contrasting hue to make it stand out. While I strive for the closest match, please be aware that due to different finishing processes, an exact match might not always be attainable.
Given the bespoke nature of this accessory, each hood prop is made to order, and refunds are not available once the crafting process has commenced. The lead time for this custom Shelby Super Snake hood prop is 3-6 weeks, contingent upon the design approval and refinement stages.
Elevate the presence of your Shelby Super Snake with this exclusive hood prop, a testament to my dedication and craftsmanship. For enthusiasts on the move, consider the tailor-made hood prop carrying bag I offer, ensuring effortless transportation to and from car events: Custom Hood Prop Carrying Bag.