---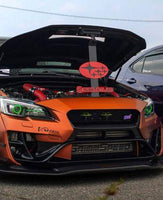 Custom Subaru Hood prop
Elevate your Subaru's presence at car meets with a bespoke Subaru hood prop crafted by my hands. Choose from three optimal sizes—24 inches, 30 inches, or 36 inches—to flawlessly complement your Subaru's silhouette or engine bay. Each prop is meticulously handcrafted from robust gauge steel, precision-cut on a state-of-the-art plasma table, ensuring an unparalleled and premium product tailored for Subaru enthusiasts.
To harmonize with your Subaru's iconic colors, I offer specialized in-house powder coating. While I strive to mirror your Subaru's shade, please understand that due to varying finishing techniques, an exact match might not always be possible. Your purchase includes a choice of two colors, with additional hues available at an extra cost.
I'm deeply committed to realizing your vision for the perfect Subaru accessory. I maintain open communication throughout the design journey, ensuring your prop aligns with your expectations. Kindly note, given the bespoke nature of my work, I cannot offer refunds once the crafting process commences. The current crafting duration for our Subaru-specific hood props ranges between 3-6 weeks, contingent on the design approval and refinement stages.
Elevate your Subaru's charisma with an exclusive hood prop, a testament to my dedication and craftsmanship. For Subaru enthusiasts on the go, consider the tailor-made hood prop carrying bag I offer, ensuring effortless transportation to car events: Custom Hood Prop Carrying Bag.